Grimsby Toll Bar roundabout traffic lights plan condemned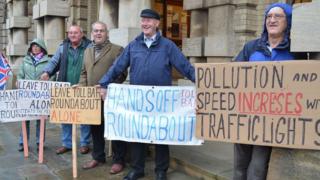 A controversial decision to replace a Grimsby roundabout with traffic lights has been condemned.
The £2.2m Toll Bar scheme was approved on Monday despite a 10,000-signature petition against the plans.
Cleethorpes MP Martin Vickers said North East Lincolnshire Council "ignored the overwhelming views of local people".
But leader Ray Oxby said the council listened to residents and looked at all the options before making the decision.
The authority said it wanted to improve the junction to allow pedestrians to cross the main road safely and "to accommodate current traffic levels and forecast traffic growth".
It added a "failure to increase the capacity of the Toll Bar junction could result in development on a number of strategic sites being stalled".
But campaigners argued the traffic lights would lead to an increase in pollution and speeding vehicles, leaving children at risk of being seriously injured or killed.
Following the meeting, campaign leader Roger Breed said he was "astounded" by the decision but would continue to fight against the scheme.
"I'm not being overly-dramatic, but I think they've just declared war on the public," he told the Local Democracy Reporting Service.
"When the contractors turn up to start closing roads I think they're going to be in for a hot reception."
But Mr Oxby said the plans had been through complex levels of scrutiny and the council had chosen the "most reasonable, practicable" option from evidence gathered.
"We've taken legal advice, the top barrister, who says all avenues of governance have been exhausted, to the point now where any further challenge would be disproportionate to cost and we've also got a strong evidence case.
"Overall, the accidents are there to demonstrate there is a problem that needs to be controlled."
Work would be started "as soon as possible", he added.