Grimsby: Reaction to town's 'unhealthiest high street' crown
By Pritti Mistry
BBC News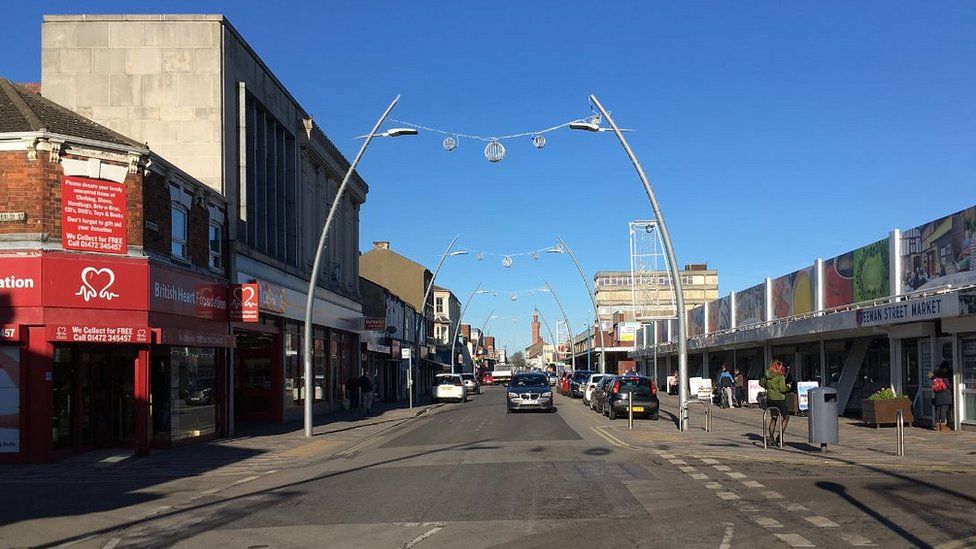 Takeaways, betting shops and off licences are just some of the reasons Grimsby has been crowned "Britain's unhealthiest High Street".
Grimsby has long been the butt of much negative mirth. The fishing port was left reeling when, in 2014, Channel 4 filmed its Skint documentary, portraying the town as poverty-stricken and a benefit black spot.
So it would come as no surprise that the "unhealthiest" appellation would ruffle feathers again.
The feeling of anger was particularly strong on Freeman Street, a half-mile long strip lined with a myriad of businesses alongside a 145-year-old fruit and vegetable market which used to be the town's main shopping area.
"It's just one more kick in the teeth," said Grimsby fitness instructor Daniel Westcott.
Mr Westcott launched the North East Lincolnshire Enough is Enough Action Group in a bid to tackle anti-social behaviour problems in the town.
He described The Royal Society for Public Health (RSPH)'s report ranking 70 major UK towns and cities as "flawed".
"It's not a fair reflection at all," he said.
"Why didn't they check out the number of gyms and sporting clubs in the town?
"We've got gyms opening all over the town. There's tonnes of fitness and sporting stuff going on.
"They've not gone into healthy cafes and deli shops. I'm not saying there's tonnes of these in Grimsby but there's certainly a shift towards it.
"Grimsby's not any different from any other towns and cities.
"They way they've gone about it is flawed."
His remarks are echoed by Rox Shardlow, who works at a nearby coffee shop on Victoria Street.
"There's much worse places than Grimsby, like Hull. It doesn't help that we're a small town.
"I think the report has to take into consideration the size of the places."
Among the shoppers and commuters strolling along Freeman Street was 36-year-old Lorna, who moved from Doncaster to Grimsby 20 years ago.
"I just think it's a load of rubbish," she said.
"How it's been crowned that, it's funny.
"It's the same everywhere you go.
"I just think it's funny because everywhere has to be labelled, and it's just wrong."
Jackie Pearson, who was born in Grimsby but has since moved to the south-coast city of Portsmouth, gave her opinion on the town's new tag as she dashed out of Freeman Street's historic market.
"I'm not surprised," she said, while shaking her head in agreement with the new "unhealthiest" moniker.
"Where I live down south, I think there's only one chip shop on the high street and a pizza outlet.
"There's definitely more here, especially down Freeman Street. There's loads of takeaways and off licences and bookies."
The same feeling was also shared by Yvonne Taylor, from Grimsby, who said she was heading towards one of the takeaways on the street when she was approached by the BBC.
"All high streets are the same really," she said.
"I've been to quite a few and Grimsby's no different. Can't say it's the worst, but it's not the best.
"It's not a very nice place at the moment.
"If I didn't live here, I wouldn't visit here."
The RSPH's analysis also found Grimsby had the highest number of empty shops, with 27% of units lying dormant in the town.
But business owner Sarah Thompson, who is opening a new tattoo studio on Freeman Street, says she has seen an increase in footfall and believes the area's fortunes are on the up.
"I think it's nonsense," she said, referring to the report.
"Parts of Freeman Street used to be derelict. But now there's lots of new businesses opening up in Freeman Street. I'm one of them.
"There are a few units opposite us and next door that used to be empty and they are now taken."
The 45-year-old Grimsby-born businesswoman opened a beauty salon on the same street 18 years ago before shutting shop and starting anew.
She predicts the empty units that currently blight the neighbourhood "will all be taken by the end of next year" and believes the abundance of takeaways and betting shops is allowing consumers to "have a choice".
Lawrence Brown, managing partner of Scott's Property, an estate agency which has an office in Grimsby, said the town has had a "tough time over the years" but was now trying to "fight back".
"Yes there's betting shops and takeaways, but equally there's also supermarkets, there's Freeman Street market selling fresh fruit and veg. That's part of having a healthy mix in our shopping areas."
He said his agency had recently let out premises on nearby Victoria Street to "a mobility shop", a school uniform shop, two hairdressers and a clothing shop.
"But not a single betting shop or a takeaway amongst it," he added.
"Unless this report is going to bring with it some extra funding or extra ideas... I don't see what benefit it has at all."