Overweight children 'may cost Hull £215m in later life'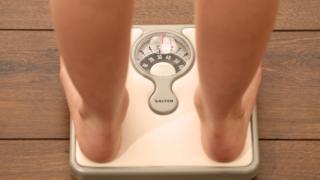 Obese children may cost Hull's economy more than £215m a year if their weight problems are not tackled, it is warned.
The concern is raised in a city council report that reveals 30% of pupils aged four to five are overweight or obese.
Director of public health, Julia Weldon, said the findings were a "stark" warning about the potential future for many of the city's children as adults.
"Up to 8,000 local children are at risk of future ill health," she said.
"We need to do more together, to work with more people from across the city to widen the debate so that everybody recognises that childhood obesity is a problem that goes far beyond public health interventions," she added.
The report presented to the authority's Health and Well-Being Board, estimates that each year obesity will cost the city £128m in lost earnings from early death and illness, with a further £63m being spent on medication.
According to the Local Democracy Reporting Service, the NHS in Hull spends a further £24m annually in treating obesity and associated illnesses, while sick days due to obesity are costing around £76,000 per year.
The statistics for four to five year olds are the highest in Yorkshire, while Hull is second only to Bradford for obese 10 and 11-year-olds in the region, with 36% of Hull children obese or overweight.
The figures come from Public Health England research, which reveal the national average across England is that 22.5% of four to five years olds were overweight or obese. This rises to 34.5% of 10 to 11 year olds.