Paraffin wax washed up on Bridlington coastline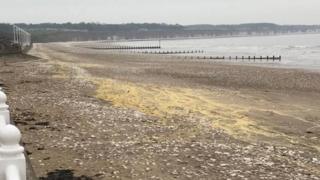 Lumps of paraffin wax have been washed up on the East Yorkshire coastline.
Humber Coastguard said lumps of the yellow-white substance had washed up on beaches at Bridlington between South Landing and Barmston.
A spokesman said the wax had most likely been blown ashore after being washed out of tankers' holds at sea.
He said the substance posed minimal risk unless ingested and urged dog owners to keep their pets away until the wax is removed or washed away.
In a statement Humber Coastguard said: "The waxy substance, which has been confirmed as paraffin wax is of low risk to health.
"The beaches remain open as normal, but as a precaution beach users are advised not to go near the substance."