Hull Albert Avenue lido to reopen after 30 years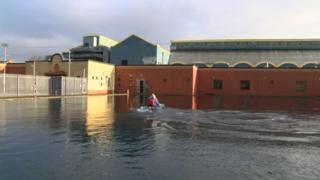 A lido is to reopen to swimmers after nearly 30 years as part of a £4.7m scheme to improve two pools in Hull.
The outdoor pool on Albert Avenue was last used for public swimming in the late 1980s. It has only remained open for use by a private kayak club.
Under the city council's plans, £2.8m will be spent to revamp the facility and bring it back into public use between the spring and summer months.
The remaining cash is being used to upgrade the indoor Beverley Road Baths.
Councillor Gill Kennett said there were "lots of happy memories" of the lido when it was in public use.
"I can remember myself, when I was young, coming to this lido and the fun of jumping in to the [pool]," she said.
"It was great and I just want the families in this area to have the same experience."
Councillor Lynn Petrini said the Albert Avenue lido was "one of the few left" in England.
It is expected to open in spring 2020.
Improvements to Beverley Road Baths include new changing rooms, a sauna and a gym.