Libby Squire murder trial: Pawel Relowicz 'refused woman's advances'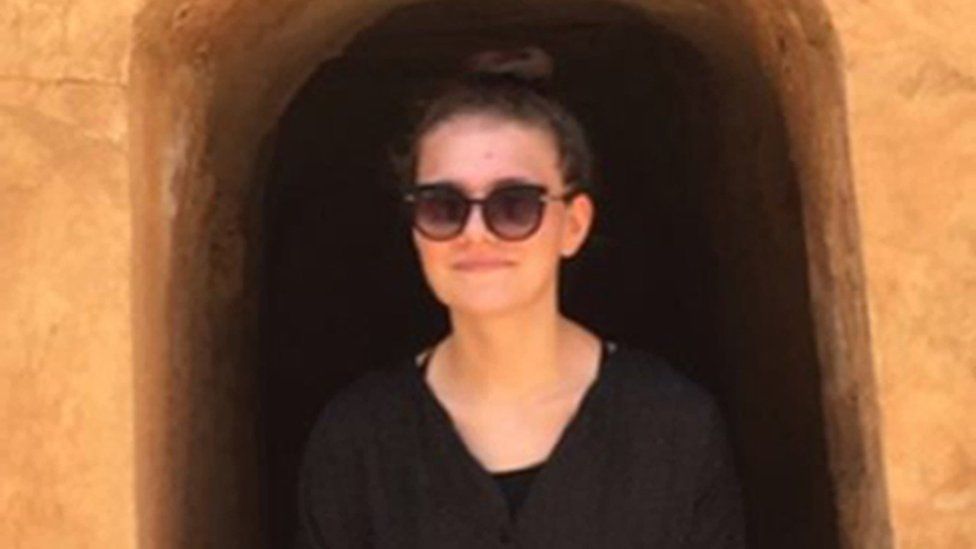 A man accused of raping and murdering Libby Squire told friends a woman had "tried it on" with him on the night of the student's disappearance.
Pawel Relowicz, 26, told a colleague he had offered the woman a lift but he had dropped her off when she began "acting strangely", a court heard.
His trial at Sheffield Crown Court also heard details of a bag containing sex toys and women's underwear found in his car boot.
Mr Relowicz denies the charges.
Prosecutors say he "prowled the streets" of Hull's student area in search of an opportunity to offend before he targeted the "vulnerable" Ms Squire.
Jurors heard Mr Relowicz tell police he did not put the 21-year-old in his car the night she disappeared with the intention of committing a sexual offence.
He said he had seen her crying in the street and had wanted to help, but dropped her off near some playing fields because she was going to be sick.
The court heard he told detectives "I've got nothing to hide, check the cameras" and maintained he had "nothing to do with her disappearance".
Giving evidence in court, the defendant's friend Darius Chrostek said Mr Relowicz had told him he offered a "girl at the bus stop" a lift home and she had "tried it on with him".
Via an interpreter, Mr Chrostek told the jury he knew Ms Squire was missing but he did not connect her with Mr Relowicz.
The defendant's colleague Rafal Mrowczynski also gave evidence, saying Mr Relowicz had offered to take a girl home to her house but she was "acting strangely".
When she started undressing in his car, the defendant told him, he had told her to get out.
Mr Mrowczynski told jurors he had advised his colleague to inform the police after they discussed a missing girl.
The court later heard from a neighbour who said he saw father-of-two Mr Relowicz cleaning the mats of his car on the afternoon of 1 February - a day after friends last saw Ms Squire.
Brian Thornton, who lives on Raglan Street, told the jury of seven women and five men it was a "bitterly cold day" to be cleaning a car.
Jurors were shown CCTV of Mr Relowicz and Ms Squire's movements from when she was last seen on Beverley Road on 31 January 2019.
The pair came across each other after the student was refused entry to a nightclub because she appeared drunk, the court was told.
The prosecution has claimed Mr Relowicz committed a string of "sexually motivated" burglaries in the months before Ms Squire's death and kept "trophies" - underwear and sex toys - stolen from other women.
He told police a pink sports bag containing sex toys, used knickers and intimate photographs found in the boot of his car did not belong to him nor his wife.
The court heard he told officers he "forgot" about them and he did not know how long they had been there, nor where they came from.
Halloween masks - one of a clown's face and another in a "Scream"-style - were also found, which he told detectives were in the boot because his wife said "they were frightening for the children".
Related Internet Links
The BBC is not responsible for the content of external sites.