Covid: Scunthorpe nurse praises colleagues over birth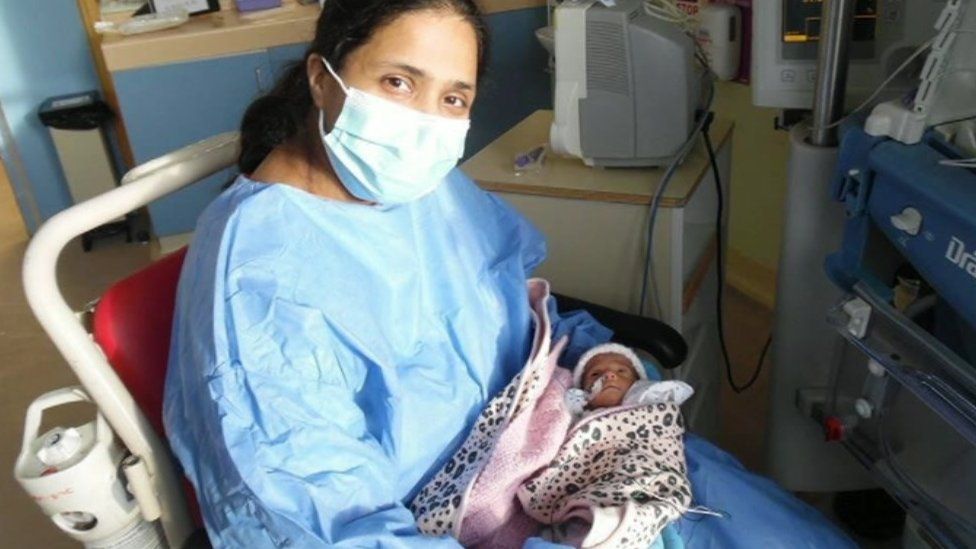 A nurse whose baby was delivered while she was in intensive care with Covid-19 has praised colleagues for saving her life and that of her newborn daughter.
Rose Jimmychen was 29 weeks pregnant when she was admitted to Scunthorpe General Hospital in early December.
Her condition deteriorated rapidly and she said she feared the worst before she underwent an emergency caesarean.
Ms Jimmychen said she and her daughter were now both doing well and she wanted to say "a big thank you" to staff.
Baby Catherine was born on 9 December weighing just 2lbs 6oz.
"I never thought she was going to survive because I knew I was not well and I might not make it," Ms Jimmychen said.
"Because of the situation, my family could not come in and I thought I'm never going to see them again."
However, after several weeks of treatment, mother and daughter are now back at home in Scunthorpe with husband George and Catherine's three older brothers.
Thanking staff at the hospital, Ms Jimmychen told them: "You are doing an amazing job."
Zoe Huteson, critical care matron at the hospital, said it had been a very difficult time for everyone involved.
She said doctors had intervened in order to allow for Rose to receive treatment for Covid, including medicines not suitable for pregnant women.
"It's just such a nice feeling to see such a positive outcome," she said.
Swapna Mathew, a friend and colleague, said Ms Jimmychen was well aware of what could happen as she had transferred from her normal role as a theatre nurse to work on the Covid wards during the second wave of the pandemic.
"She was really poorly and we didn't know what might be the outcome. Thankfully, it turned out to be a really good one," she said.
Related Internet Links
The BBC is not responsible for the content of external sites.