Baby born safely in Grimsby hotel car park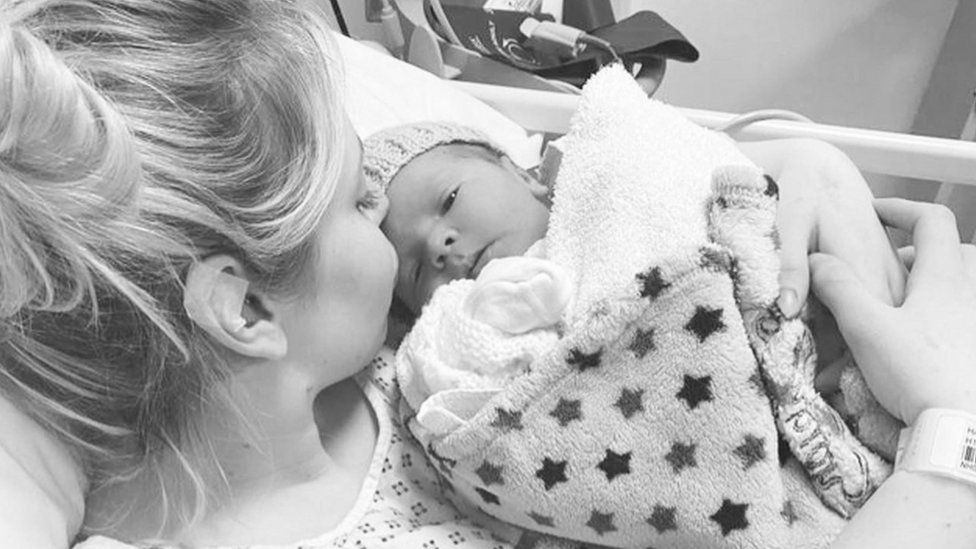 A baby born in a hotel car park after his parents were sent home from hospital has been nicknamed "Car Park Charlie".
Charlie Smith was born in an ambulance outside the Premier Inn, Grimsby, after his parents checked-in rather than risk driving home through heavy snow.
Harriet Hanson and Adam Smith had been facing a 45-minute drive to Skegness but chose to stay near to the hospital.
They said they believe the decision was "critical" to Charlie's safe arrival.
Ms Hanson, 25, had gone to hospital in Grimsby on the night of 7 February after she began experiencing contractions, but was told to go home and return when she was in established labour.
However, rather than travel in the freezing conditions, they chose to book a nearby hotel room.
Later that night Ms Hanson's waters broke and hotel staff helped the couple by calling 999.
When paramedics arrived she was taken to a waiting ambulance, where baby Charlie was delivered at 00:29 GMT the next day, weighing 8lb 3.5oz (3.7kg).
Ms Hanson and Mr Smith, 28, said: "We are so grateful for the care and kindness shown by the team at Premier Inn during our time of need.
"To say you were born in the car park of a hotel is certainly a story you will never forget - we have even affectionately nicknamed him Car Park Charlie."