Plans announced for 'low carbon' power stations in Lincolnshire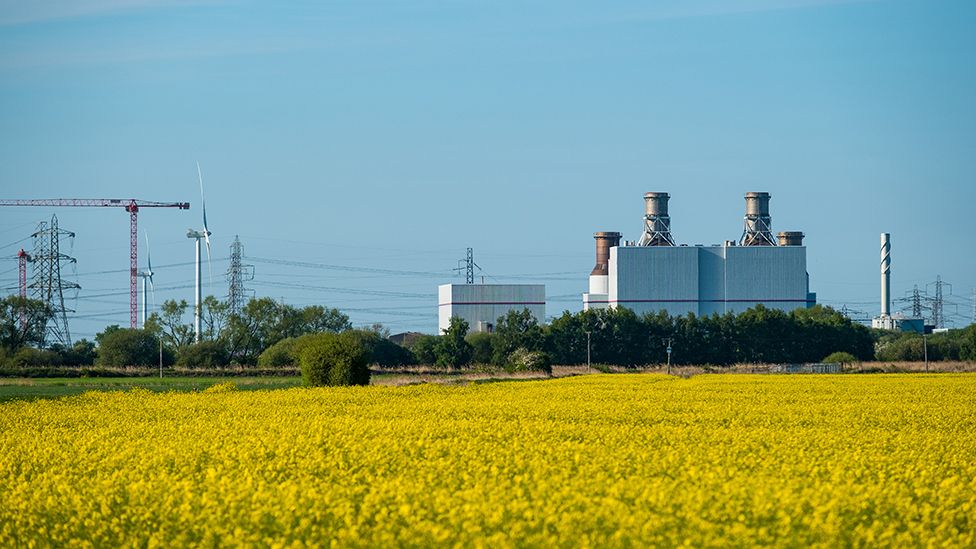 Hundreds of jobs could be created after plans were announced to build two "low carbon" power stations in North Lincolnshire.
The proposed plants at Keadby would use carbon capture technology and hydrogen to generate electricity.
Its developers said the project would help the UK to reach its target of net zero carbon emissions by 2050.
The plans are part of the larger Zero Carbon Humber (ZCH) initiative, which aims to reduce industrial CO2 output.
According to the joint developers, Equinor and SSE Thermal, the plants would be built alongside existing power stations near Scunthorpe, which have attracted protests from environmental campaigners.
One plant would burn natural gas and use carbon capture technology to remove the CO2 from its emissions. The CO2 would then be transported along pipelines before being securely stored in rocks under the North Sea.
The hydrogen power station would produce "zero emissions at the point of combustion", its developers claimed.
Stephen Wheeler, managing director of SSE Thermal said the Humber would be at "the centre of the UK's decarbonisation strategy".
"These projects would play a major role in decarbonising the UK's flexible generation capacity, while supporting a green economic recovery in the Humber," he said.
"By utilising cutting-edge carbon capture and hydrogen solutions, we can decarbonise power generation, heavy industry and hard-to-reach sectors of the economy, which will be essential in both achieving net zero emissions and ensuring a just transition for workers and communities."
The partners said that both projects were still at the development stage and final investment decisions would be made later.
If they go ahead they could see about "1,000 new jobs in the construction phase" and 100 plus jobs when fully operating, a spokesman said.
According to ZCH, the Humber region is the UK's largest producer of industrial CO2, with 12.4m tonnes emitted every year.
The Humber is one of nine areas in the UK to pilot green technology projects to cut carbon output from industrial sites.
Related Internet Links
The BBC is not responsible for the content of external sites.