WWII bomb on Goole housing development to be detonated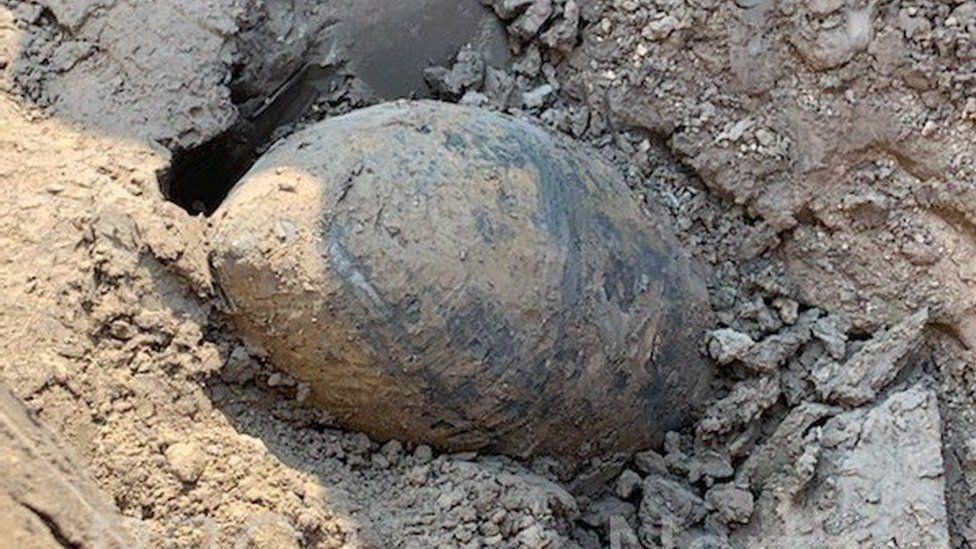 An unexploded bomb unearthed on a new housing development is to be detonated in a controlled explosion within 24 hours, police have said.
The live bomb was found at the development on Rawcliffe Road, Goole, close to the M62, on Thursday morning.
Eight homes have been evacuated and the M62 motorway will be closed between junctions 35 and 37 from 20:00 BST on Friday, Humberside Police said.
Road closures will remain in place until after the bomb's detonation.
The Explosive Ordinance Disposal team were called following the discovery of the 500lb (227kg) World War II device and confirmed it was live.
Police said an extended cordon and the closure of both the east and westbound carriageways of the M62 would allow the team to complete the work they needed to do before detonating the device.
A section of the A614 has also been closed along with a number of minor roads and a no-fly zone above the area has also been imposed.
Anyone living or staying in the wider immediate area has been asked to stay indoors from 20:00 BST. Businesses within the cordoned area have been asked to close until the bomb has been made safe.
A police spokesman said as the housing development was new not many people had moved in yet.
"We will continue to update the public on the situation and ask that people avoid the area until we are able to bring the incident to a safe conclusion," he added.
The bomb's location has forced the cancellation of Goole's park run, which organisers had hoped would resume on Saturday after months of being on hold due to Covid restrictions.
Posting on Facebook, they said: "After all these months waiting it is very disappointing to have to bring you this news but hopefully we will be all systems go next week."
Related Internet Links
The BBC is not responsible for the content of external sites.