Austin Mitchell: Former Great Grimsby MP dies aged 86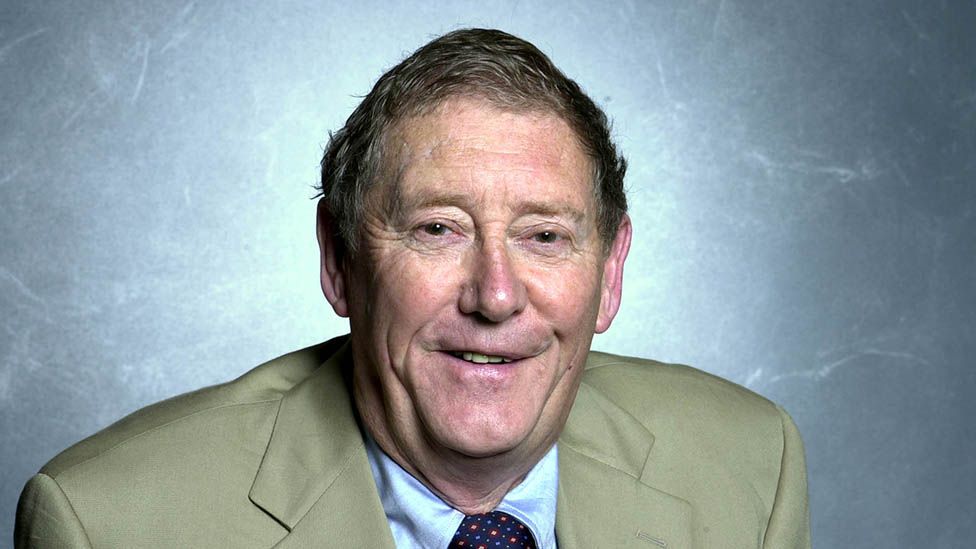 The former MP Austin Mitchell has died at the age of 86, the Labour Party has confirmed.
Mr Mitchell worked as a journalist for Yorkshire Television before being elected to the Great Grimsby constituency in 1977. He held the seat until 2015.
He is understood to have died at Leeds General Infirmary on Wednesday morning.
Labour leader Sir Keir Starmer said Mr Mitchell had served the voters "with remarkable commitment for 38 years".
Mr Mitchell was a colourful figure in the North East Lincolnshire port, even temporarily changing his name by deed poll to Austin Haddock in 2002 in a bid to promote the fishing industry.
"There are few MPs whose dedication to their constituents would translate into changing their surname to 'Haddock' to promote local industry", said Sir Keir.
Tony Blair's former director of communications, Alastair Campbell, said on Twitter: "Sorry to hear of the death of Austin Mitchell.
"Great contact when I was a journo and great company when I was with Labour, even when we disagreed.
"His big sense of humour was matched by his deep Labour values. My thoughts are with his wife Linda and his children."
Tim Iredale, Political Editor, BBC Yorkshire and Lincolnshire
Few gave Austin Mitchell a chance of winning Great Grimsby in the by-election that followed the death of Tony Crosland in 1977.
The Yorkshire Television presenter was widely seen as an underdog in a contest that came at a difficult time for Labour under Jim Callaghan's leadership.
But he won with a majority of 520 votes and held the seat until he stepped down as an MP in 2015.
Widely seen as on the left of the party, Austin Mitchell campaigned for Britain to leave the EU long before Brexit became part of the political vocabulary.
He was a passionate advocate for Grimsby's food and fish processing industry.
One of my abiding memories is Austin Mitchell stood on Westminster Bridge in a trawlerman's outfit and clutching a giant fish finger to support a well-known seafood firm. Not many MPs would have ditched their pinstripe suits to do that.
In recent times, Austin and his wife Linda produced a series of video diaries for BBC Look North talking about their life in lockdown.
It made for hilarious viewing, with the razor-sharp Mitchell wit still going strong in his mid-80s.
Many political journalists will remember the self-deprecating humour that raised serious issues with a smile.
Great Grimsby MP Lia Nici, who won the seat for the Conservatives in 2019, said: "I am very sad to hear about the loss of my friend and predecessor, Austin Mitchell.
"I learned an awful lot from him. He worked incredibly hard for Great Grimsby and will be sadly missed."
Mr Mitchell was born in Bradford in 1934 and moved to New Zealand in the late 1950s to lecture at the University of Otago. He returned to the UK in the late 1960s.
He was a TV journalist for the nightly Calendar news programme between 1969 and 1977, apart from a brief spell at the BBC in 1972.
Great Grimsby Labour Party said: "His passion for Grimsby knew no bounds. His good humour, kind nature and booming laugh will never be forgotten in our town or our party."
Related Internet Links
The BBC is not responsible for the content of external sites.