Hull Hessle Road photographer shares 6,000-shot collection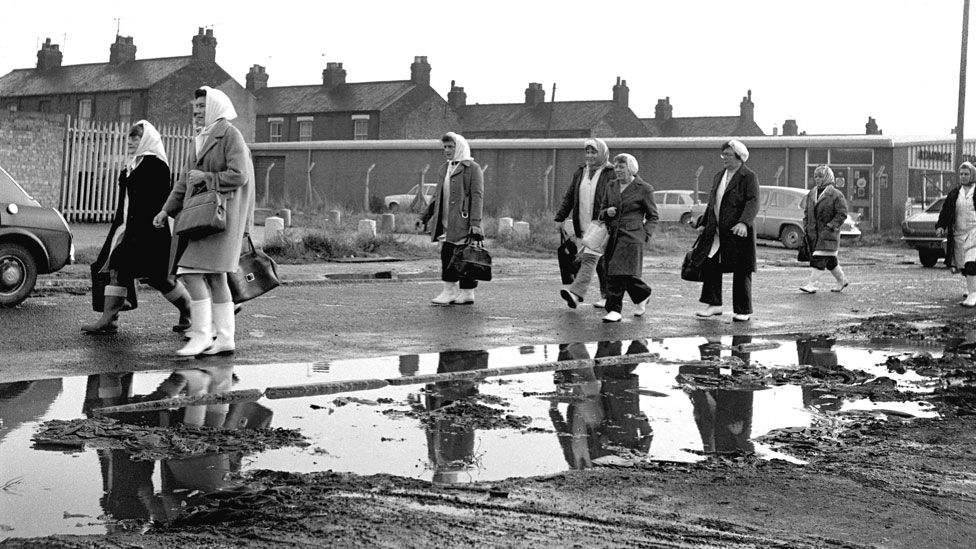 A photographer who has spent 50 years documenting the life of a fishing community is looking to fund a book featuring some of his work.
Alec Gill, 75, has been taking pictures of Hull's Hessle Road area since he first trained his camera lens on the city's St. Andrews fish dock in 1971.
He describes himself as "tourist in his own town" and an "unwitting" chronicler of the local fishing industry's decline, which he has recorded in 6,630 images of the area and its people over the decades.
The photographer, who was born in Hull's Old Town, had several spells of work in the shipping and forwarding industry in the 1960s but did not like office life and often took to travelling and taking photographs.
For Mr Gill, a real turning point came in 1974 when he became a mature psychology student at Hull University.
"My supervisor, Professor Clarke, told students to specialise," he said.
"There and then I decided to go all out on my Hessle Road pictures, I like the people and the fishing community was identifiable."
"I decided to be a tourist in my own town."
He concentrated on the Hessle Road area in west Hull, close to the trawlers' dock and home to many people who worked in the fishing industry and its factories.
It was a close-knit area of mainly terraced streets, some of which have been since swept away in a programme of slum clearances and to make way for new roads.
His first photographic exhibition, The Kids of Hessle Road, was held in 1979.
"There was something Professor Clarke said about working-class kids not having gardens but 'the freedom of the streets ' and that saying was something I followed," said Mr Gill.
After the city's trawler fleet lost the battle for fishing rights in the Icelandic Cod Wars by 1976, Mr Gill recalls documenting the "sad sight" as hundreds of trawlers were dismantled in Draper's scrap yard in Victoria Dock.
In 1970, Hull landed 197,000 tonnes of fish, but by 1981 that figure had fallen to only 15,000 tonnes, according to the Sea Fisheries Statistical Table.
Mr Gill said he had built his own darkroom to develop the pictures
"I was never funded, having been rejected for some grants, so I gave up and paid for films and chemicals from my money", he added.
Mr Gill has teamed up with Iranzu Baker, who works in a London design studio, to produce a book of his work.
Ms Baker became aware of Mr Gill's photographs during Hull's stint as City of Culture in 2017.
"I had never seen a representation of a city like it, the juxtaposition of hardship and joy and warmth along with his determination to dedicate his life to it," she said.
"I just thought this needs to be put in a book paying attention to the photographs, the stories and Alec's process, archival material and research.
"After the last 18 months of disconnection it is a nice time to capture a community that is shown to be so together."
The book will use offset lithography printing to reproduce high-quality images and is due to be published in Spring 2022.
The Alec Gill's Hessle Road archive campaign is to be launched on Tuesday.
Related Internet Links
The BBC is not responsible for the content of external sites.