Time balls: The rise and fall of a timekeeping icon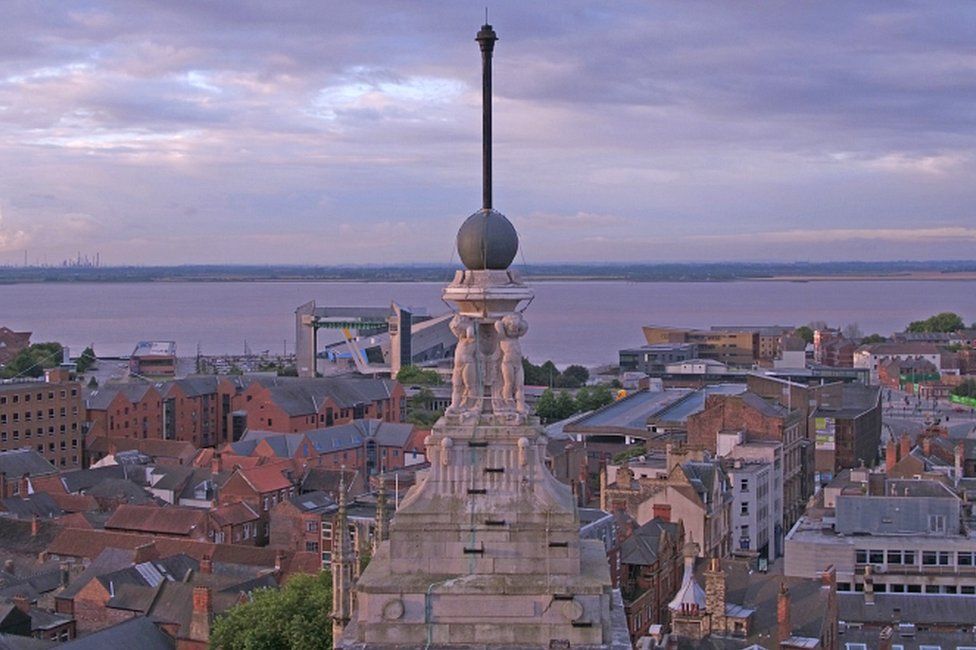 Earlier this month, a time ball was returned to the top of Hull's Guildhall. The golden orb was once a beacon for incoming sailors, and an example of a device that played a role in shaping the way we live today. As the city sets about getting it working once more, BBC News looks at the fascinating history of the chronographic sphere.
The time ball, for the uninitiated, does what it says on the tin. Or, in the case of Hull's, its 23.5-carat gold leaf covering. At the same time each day, it rises up a pole before dropping back down, signifying the hour. Though primitive by today's smartwatch-sporting standards, it was once the most accurate means for the average person to tell the time.
Probably the most famous modern-day example descends once a year, at the stroke of midnight, above New York's Times Square. The crystal, geodesic sphere is a suitably glitzy ornamentation to mark the end of the city's world-famous New Year's Eve countdown.
But far removed from the star-studded US celebration most would associate it with, the time ball has a largely forgotten 190-year history with its roots in the British maritime industry.
That history is the record of a device which helped to shape the way we live, paving the way for the country to be brought together on a single, unerring schedule.
Hull's ball enjoyed a fairly short working life atop the city's Guildhall, perched on a mast 196ft (60m) above ground level. It was put into service in 1918, during World War One, and was taken out of action by 1922.
An Historic England report about Hull's time ball and its planned restoration notes it was "a very late example of that technology, coming at a time when they were nearly obsolete".
But the skybound sphere, easily visible from the Humber Estuary and River Hull, made sense for the city at the time, with its strong shipping industry. As the report says, "the ability to tell the time at sea brought immense benefits for an island-bound, mercantile nation such as Great Britain".
Mariners can calculate their position by clocks but need to know the local time and the time at their home port. Even the best onboard device could lose or gain seconds over a voyage and any discrepancies could have serious consequences.
"The correct time is very important to help sailors find their longitude," explains Dr Emily Akkermans, Curator of Time at the Royal Museums Greenwich.
Time balls provided a much easier method for sailors to ensure clocks were accurate, as opposed to celestial observations, especially in bad weather or heavy cloud, Dr Akkermans says.
But if Hull was late to the party, when did the time ball start rolling?
A brief history of time balls
To learn about the origins of the time ball, you must turn the clock back exactly 100 years before Hull's was installed, to 1818.
A Captain Wauchope started to promote the idea of a visible signal for ships to see the correct time. His original suggestion was for the use of flags, but after a campaign which included him writing a flood of letters to the Admiralty, the world's first time ball was raised into position on England's south coast, in Portsmouth, in 1829.
About three years later, Greenwich got its own time ball situated high on a hill to the south of the Thames. Famously, it still operates today, and at 12.55 each day, it rises halfway up its mast before rising to the top at 12:58. Then, at 13:00 exactly, the ball falls, producing a signal that even landlubbers can see.
While the ability to tell the time accurately is - quite literally - within arm's reach for anyone with a watch, time balls still inspire a certain fascination, Dr Akkermans says.
"Every single day people still gather to watch the ball drop. Working here we take it for granted really."
A few years after Greenwich's ball was installed, the first standardised time was applied in England during the railway boom of the early 1840s.
"In the 19th Century the railways brought a more standardised time with national standard time. Previously local time could differ by several minutes in different locations", said Dr Akkermans.
And with that development a time ball really wasn't just an innovation confined to sea-faring areas. Gradually, other places got their own, allowing the local populace to check the time and catch their train or arrive punctually for appointments.
Even enterprising businesses in city centres, particularly jewellers and watchmakers, began to put time balls on their shops. Demonstrating that your workplace "had the connection to true time" was considered a mark of a prestigious outfit, Dr Akkermans says.
One such establishment is Dyson's Time Ball Buildings in Briggate, Leeds, which installed an electric device in 1878 timed by a current directly from Greenwich.
The Grade II listed building is no longer a watchmaker but it still has "its rare surviving external time ball and its elaborate decorated scheme", according to Historic England.
As other technologies surpassed it, the time ball gradually went out of fashion, and few workable examples survive.
"They needed a complicated mechanism, some needed hand-cranking even, and gradually as a result we just don't rely on them anymore," says Dr Akkermans.
"The one in Greenwich, for instance, is not dropped in windy weather as the pole is relatively weak. In 1853 it broke and the ball crashed to the ground."
Remaining time ball sites in the UK include:
Bolton, Preston's of Bolton, Greater Manchester
Brighton, Clock Tower, East Sussex
Deal, Kent
Edinburgh, Nelson's Monument
Hull, Guildhall, East Yorkshire
Leeds, Time Ball Buildings, West Yorkshire
Margate Clock Tower, Kent
Royal Observatory, Greenwich
The plan is to have it up (and down) running by 2022, to mark 100 years since it last dropped.
Let's hope the project runs on time.
Related Internet Links
The BBC is not responsible for the content of external sites.