Covid: Cancer patient 'destroyed' as Evusheld ruled out for sick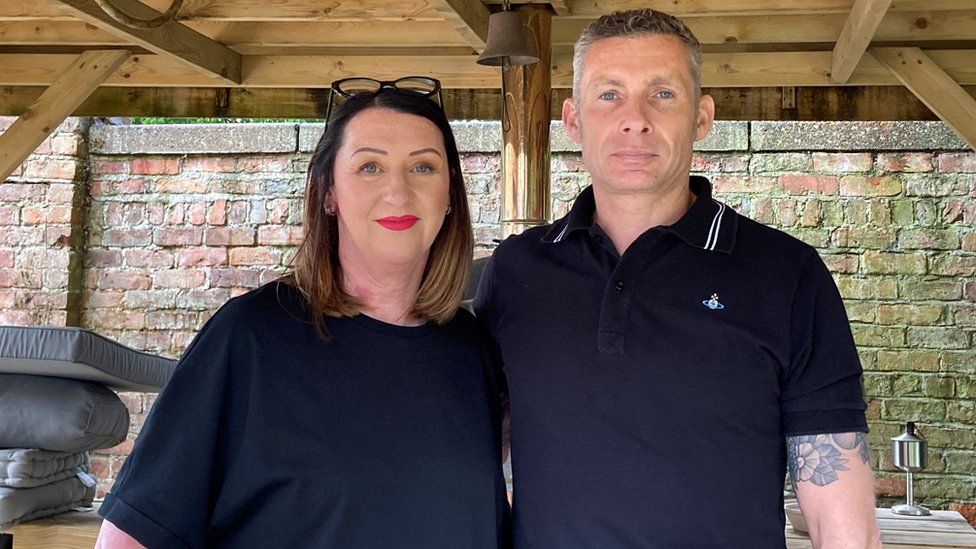 A cancer patient and his wife say they feel "destroyed" by the government's decision not to roll out a Covid protection for people with weakened immune systems.
The Department of Health said it would not be buying doses of the Evusheld injection without more evidence about its effectiveness against Omicron.
Scott Brigden, from Hedon, East Yorkshire, will continue shielding, his wife Nikola said.
Charities said they were disappointed.
Mrs Brigden, whose husband was diagnosed with mantle cell lymphoma in June 2021, said: "We are both absolutely destroyed by this decision. So many people have been let down.
"It's almost as though these people, some of society's most vulnerable, have been thrown to the wasteland."
Evusheld, developed by AstraZeneca, contains two antibodies against Covid that boost protection for those whose immune systems do not respond well to vaccines.
Clinical trials in adults showed a 77% reduction in the risk of developing Covid symptoms for at least six months after a single dose of the drug.
AstraZeneca is selling Evusheld in 32 countries including the US, Canada and parts of the EU.
Mrs Brigden said: "It makes no sense. Thirty-two other countries are using it. Why not this country?
"It would help ease the burden on the NHS because all these people would be protected from Covid complications."
Blood Cancer UK said many people would be "left feeling let down" by the decision.
"We have been unable to mix with family and friends since March 2021," said Mrs Brigden.
"Scott wants to return to work but we can't risk it. We are going to have to keep isolating until at least next April."
A review by the health watchdog NICE will get under way this autumn, but is not expected to report until April next year.
Related Internet Links
The BBC is not responsible for the content of external sites.