Branson to mark 60th by kitesurfing across Channel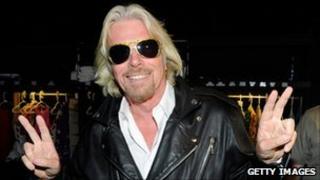 Sir Richard Branson plans to kitesurf across the English Channel to mark his 60th birthday.
The Virgin boss will be accompanied across the 24-mile stretch of water by his children, Holly, 29, Sam, 26, and some of his nephews.
He plans to leave Dungeness in Kent but said the French finishing point was dependent on wind conditions.
Sir Richard, who turns 60 on Sunday, is to embark on the six-hour trip some time in August.
Sir Richard said: "Kitesurfing is one of my favourite sports. I absolutely love the amazing rush you get when going at high speeds, in high winds, with the most beautiful kite acting as your only guide."
He added: "My wife [Joan] swears I get more barking as I get older. This year I've almost crippled myself running 26.2 miles in my first marathon.
"Now I'm putting my poor 60-year-old bones through an arduous 24.4 miles, over water, hanging on to a giant kite.
"Joan could have a point. But as Holly, Sam and my nephews will be doing it with me, at least I can claim the whole family is barking and at the end of the day they are Joan's children as well - so she's 50% responsible."