Thai demo arrest Briton Jeff Savage is deported to UK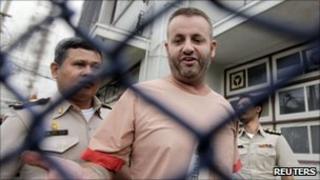 A Kent man filmed apparently inciting Thai protesters to burn down a shopping centre has been deported to the UK.
Jeff Savage, 48, a former royal porter from Tonbridge, pleaded guilty to breaching an emergency decree imposed to halt anti-government protests.
He was jailed for three months but a Thai judge halved the term last week and said he could be freed immediately.
A spokesman for the Foreign and Commonwealth Office confirmed Mr Savage had returned to the UK.
He had been in living in Thailand for nine years.
He was arrested after he was captured on video appearing to exhort protesters to set fire to the Central World shopping centre in central Bangkok during major civil unrest.
Savage was filmed wearing a bandanna and saying of Central World: "We're gonna loot everything, gold, watches, everything, and then we're gonna burn it to the ground."
The shopping centre was later set fire to and destroyed during the violence which has gripped the country since Thaksin Shinawatra was ousted as prime minister in 2006.
Savage was reported to have been living with his elderly parents in the beach resort of Pattaya.