Kent police recruits are told places axed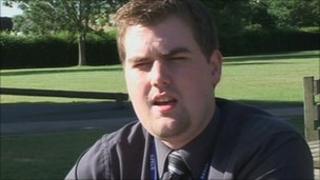 Nearly 200 people expecting to begin training as police recruits in Kent have been told their places have been cancelled because of spending cuts.
It comes a month after the Kent force was told it would have to make cuts of nearly £23m in the next three years.
The recruits received telephone calls cancelling their places last week.
"I just can't imagine how upset they must be after they have planned for years to join the police," said Assistant Chief Constable Allyn Thomas.
"Now they find out, through no fault their own and no fault of ours either, that they cannot join the force when they thought they were going to."
Waiting to start
Five years ago, Kent Police took on 250 recruits in a year. Last year there were 127 and this year 70 but now a recruitment freeze has been imposed.
Stephen Wilson from Aylesford, who turned down a university place to join the police and was waiting for a start date, was one of those affected.
He was first told his place was under review in May.
"This is something I have been wanting to do since I was about 15, and on Monday I was told I was no longer in the system and my application was void," he said.
"It has totally shattered my dreams and I just feel so disheartened by the whole process."
The new Chief Constable of Kent, Ian Learmonth, has said his biggest challenge in the job would be the budget cuts and that job reductions could not be ruled out.