Dartford charge suspension considered at busy times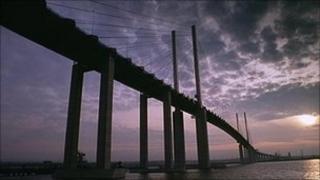 The barriers at the Dartford Crossing toll booths could be lifted during times of severe congestion.
The Department for Transport said it was willing to consider the measure to ease traffic delays.
It has also asked the Highways Agency to look at whether new licence plate recognition technology could allow free-flow charging.
Protesters say the crossing should have been free to use after 2003, when building costs were met.
'Congestion particularly severe'
Roads minister Mike Penning said: "The Secretary of State for Transport and I had a constructive meeting today with local and interested MPs to discuss the Dartford/Thurrock River Crossing.
"We both confirmed that reducing congestion at the Dartford crossing is an absolute priority.
"Our preferred option is the use of newer technology to allow free-flow charging and we have asked the Highways Agency to work up proposals as a matter of urgency."
He added: "However, we are also willing to consider the possibility of lifting the barriers when congestion is particularly severe.
"Any solution will need to take account of the potential benefits and impacts, and the need to maintain the safe operation of the Crossing for the millions of its users."
The Dartford Tunnel and Queen Elizabeth II bridge cross the River Thames between Dartford and Thurrock, forming a link in the M25 motorway, carrying about 150,000 vehicles a day.
The crossing is renowned as a major traffic bottleneck, with many people blaming the toll stations.
In August 2009 the AA said there were noticeably more delays on the M25 since November 2008 when the crossing charge was raised from £1 to £1.50 for cars.
There is no charge to use the Dartford Tunnel and QEII bridge between 2200 and 0600.