No challenge from Maidstone NHS over Rose Gibb payout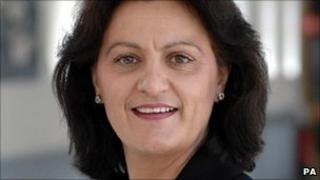 An Appeal court ruling to award damages to the former boss of a Kent NHS trust where 90 people died in a superbug outbreak will not be challenged.
Last month, Rose Gibb won her legal battle over her severance pay and was awarded more than £190,000.
She left her job days before a report into a clostridium difficile (C. diff) outbreak at Maidstone and Tunbridge Wells NHS Trust was released.
The NHS trust said it had been legally advised not to challenge the ruling.
In the Court of Appeal ruling, Lord Justice Sedley said Ms Gibb had done nothing wrong and the blame allocated in the report was accepted by the trust's board who all later resigned.
But families involved in the outbreak called the payout an "outrage".
'Sincerely sorry'
On Thursday, a spokesman for the NHS trust said the Appeal court ruling would not be challenged.
He said: "We understand the strong concerns that still exist about this payment and have tried over the past two years to legally put right what is still publicly seen as a great wrong.
"We have been legally advised not to challenge the Court of Appeal's decision. We will therefore not be taking any further legal action.
"We will always be sincerely sorry about this period of time in the trust's past. Under new leadership and with significant change, we have made notable improvements in infection control since Ms Gibb's departure."
'Demonised by press'
Ms Gibb left her £150,000-a-year post in October 2007, days before a highly critical report highlighted problems with overcrowded and dirty wards.
The report concluded the C.diff infection was the main cause of death for 90 patients in 2007.
Because she left by mutual agreement, Ms Gibb was in line for a £250,000 severance package, which included £174,573 compensation and £75,427 notice pay.
But the Department of Health blocked the payment and £175,000 was withheld.
The case ended up at the Court of Appeal after a High Court judge ruled she was not entitled to £250,000.
Ms Gibb said she was "demonised" by the press and used as a scapegoat in the Healthcare Commission's report.
In the Court of Appeal, Lord Justice Sedley said High Court judge Mr Justice Treacy had let himself be drawn into acting more as an auditor than a judge, and also criticised the government's intervention.