Rare Textus Roffensis on display at Rochester Cathedral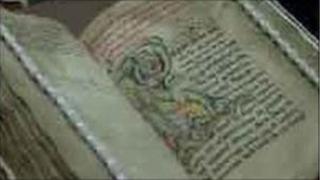 An Anglo Saxon manuscript said to have inspired the Magna Carta is going on display in Kent this week.
The Textus Roffensis, dated 1123 AD, was named best hidden treasure by the British Library in 2007.
The display of the manuscript in Rochester Cathedral's crypt coincides with an academic conference at the University of Kent's Medway Campus.
It was written by a monk in St Andrew's Priory at the cathedral, and contains legal and monastery records.
The manuscript last went on public display six years ago, and can be seen from 26 to 28 July.
Priceless document
The Textus, which belongs to Rochester Cathedral, is normally kept in Medway Council's care in an archive strong room at Strood Civic Centre.
The priceless document, which is a copy of an earlier work no longer in existence, is kept in temperature and humidity-controlled conditions.
The first part of the book contains a collection of Anglo-Saxon legislation, which influenced the barons who wrote the Magna Carta.
The second part contains Rochester Cathedral's oldest registers.
The three-day conference, starting on Sunday, was instigated by Professor Sir Robert Worcester, Chancellor of the University of Kent.
"This is the first occasion where scholars of medieval history and others who study the importance of this period have gathered anywhere in the world specifically to exchange knowledge about the role of the Textus Roffensis in the history of England," he said.