'Forgotten' WWII hero added to war monument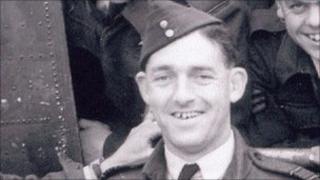 A World War II pilot who was left off the Battle of Britain monument has been added following a campaign by his family.
Charles Ogilvy's war time records had either gone missing or were damaged, so he was not included on the list on the monument in central London.
His daughter, Susan, researched records to get his name added.
The squadron leader flew sorties for Fighter Command in 1940 and brought allied prisoners of war back home.
Susan Ogilvy, from Oxfordshire, was on a trip to London with her family four years ago when she inspected the memorial and found the name of her late father was missing.
'A mystery'
She had found her father's Battle of Britain clasp and his records which showed he had flown Spitfires and two sorties on 25 October, 1940.
She hired a researcher and contacted the Battle of Britain Memorial Committee, and a process of verifying her father's wartime records followed.
Edward McManus from the committee said: "We are delighted to be able to honour the bravery of Sq Ldr Ogilvy in this way.
"It's a mystery as to why the October 1940 entries that registered his eligibility for the clasp were picked up at the end of the war but that he otherwise vanished without trace from the usual records."
Mrs Ogilvy said: "I am grateful that my father's name has been added and that he will be honoured along with all those other young men who fought for their country.
"My father became a squadron leader and although he never talked about the war, it is right that his name appears on the memorial as it is something for our family to be proud of."
His name was added to the monument on Victoria Embankment at a ceremony on Monday afternoon.