Stone throwing link to A20 death crash in Kent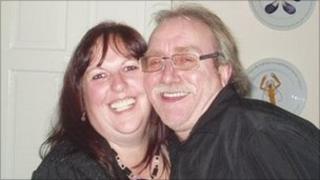 A group of young people were seen throwing stones at vehicles prior to a fatal road traffic accident on the A20 in Kent, police have said.
A lorry and recovery truck collided just past the Swanley interchange, on the London-bound carriageway, just before 1100 BST on Saturday.
A passenger in the recovery truck, Michael Baker, 47, of Littlehampton in West Sussex, died in hospital.
The driver of the truck remains in hospital with serious injuries.
Officers said a group of young people had been standing on the grass bank at the wooded side of the A20 near the Swanley interchange.
'Misguided loyalty'
As he passed the group, the lorry driver realised something had struck his windscreen and pulled over.
The recovery truck was in collision with the lorry while it was stationary.
Earlier, a van driver travelling along the same section of the A20 reported that his windscreen had been smashed by a stone larger than a tennis ball.
Ch Insp Adrian Futers, the Sevenoaks district commander, said: 'This weekend a family have lost a loved one.
"This is not the time for people to withhold information out of some sort of misguided loyalty.
'This group of young people were standing at a spot that we frequently send patrols to because youngsters hang around and there have been previous reports of things being thrown at vehicles.
"We want information about everyone who hangs around there and specifically who was there on Saturday morning."