Kent woman freed after stabbing 'never meant to kill'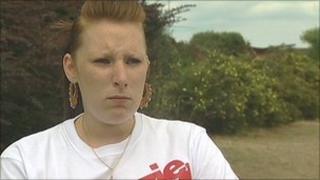 A woman who won an appeal against a murder conviction after stabbing her boyfriend has said she never meant to kill and would live with it forever.
Kirsty Scamp, from Sheerness, Kent, was 19 when she stabbed Jason Bull, 28, with a kitchen knife in 2006.
She was accused of killing while in a jealous rage and jailed for murder, but last week the Appeal court heard about domestic violence in the relationship.
Appeal judges ruled the killing was manslaughter and ordered her release.
Scamp said: "That's the biggest sentence anyone can give me, living with it, day in, day out.
"That's the sentence, because I will live with that until the end, and that's not a nice thing to live with.
"I didn't mean to kill him, I didn't mean to do it. I picked up the knife to scare him away and I just can't remember after that, my mind went blank, but I didn't mean to do anything."
Scamp and her lawyer have said the courts need to do more to recognise victims of domestic violence.
Solicitor Harriet Wistrich said: "It was very, very clearly not a murder case in the sense that she was someone who was a victim of domestic violence over a long period of time."
Ms Wistrich said Scamp was being attacked at the time that the offence took place.
During her trial, the court was told Scamp flew into a rage when she heard Mr Bull talking to a woman on his mobile phone.
Mr Bull, a carer, of Sheerness High Street, died at the entrance to their flat shortly after being stabbed on 13 March 2006.
But on Wednesday, the Court of Appeal ruled the trial judge had given a flawed summing-up to the Maidstone Crown Court jury on the issue of provocation.
The judges imposed a six-year sentence for manslaughter, entitling Scamp, now 24, to be released immediately.