Rare butterfly makes comeback in Kent and Sussex woods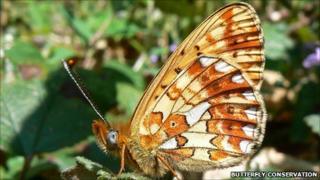 A rare species of butterfly has made a successful comeback in woods in Kent and Sussex where it had become extinct.
The pearl-bordered fritillary, which has been in sharp decline, was reintroduced at Abbotts Wood, Sussex in 2004 and Tudeley Woods, Kent in 2007.
In recent years the species has only been found in small numbers at 10 sites in the South East.
The Butterfly Conservation said 250 pearl-bordered fritillaries were spotted at Abbots Wood this summer.
The insect has also successfully bred at Tudeley Woods.
'Reverse the declines'
The Pearl-bordered fritillaries had been taken from a Forestry Commission site in Rewell Wood, near Chichester in Sussex which has seen a rise in numbers.
As part of the joint Forestry Commission, Butterfly Conservation and RSPB project, coppicing and native broadleaf tree planting has been carried out to help create the right conditions forthe butterfly.
Dan Hoare, senior regional officer for Butterfly Conservation in South East England, said: "These projects are pivotal to the success of this butterfly's conservation in the future.
"It has given us new hope we can reverse the declines, and it's brilliant that organisations are working together across the country to share reintroduction techniques.
Jane Sears, biodiversity projects officer for the RSPB added: "It's wonderful to see that the woodland management at Tudeley Woods is supporting this beautiful butterfly."