Elderly 'could die' if Hawkhurst care home closes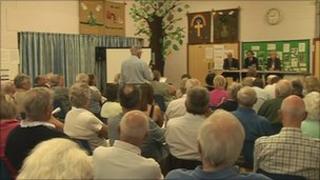 Families fighting to stop the closure of a residential care home in Kent say they fear the elderly residents could die early if they are moved out.
About 100 people campaigning against the proposal for Bowles Lodge at Hawkhurst confronted Kent county councillors at a meeting on Thursday.
John Porter, whose mother Vera Woylor is at Bowles Lodge, said it would be tragic if a move ended her life early.
Councillor Graham Gibbens said the residents would be moved carefully.
The closure of Bowles Lodge is part of a plan to change residential care in 11 of the 16 homes run by Kent County Council (KCC).
The council has said the changes would provide good quality care and make the best use of resources, saving about £2m each year.
Apartments with gyms
Some of the homes, built more than 30 years ago, do not meet modern standards, such as allowing all residents to have en suite bathrooms.
A public consultation is under way until 1 November, with a final decision likely to be made in January.
Bowles Lodge would be demolished and replaced with apartments for elderly people with 24-hour care, a gym and other facilities.
KCC has said people needing residential care could be moved into homes in the private and voluntary sector.
"The key point is that if you move those older people it very likely will shorten their lives," said Mr Porter.
"She (his mother) has heart failure and other physical conditions. That kind of move mixed with all the stress could actually end her life early and I think that would be tragic."
Mr Gibbens said no decisions had yet been made.
"I can assure people that this is a genuine consultation," he said.
"We are looking at how we can care for elderly people both now and into the future with dignity and respect.
"There is ample evidence that if this is done carefully, if we listen to what people want, that ensures outstanding long-term outcomes and that is what we can provide here."
The care home proposals also affect Wayfarers, Sandwich; Blackburn Lodge, Sheerness; Doubleday Lodge, Sittingbourne; Kiln Court, Faversham; Cornfields, Dover; Manorbrooke, Dartford; Ladesfield, Whitstable; Sampson Court, Deal; The Limes, Dartford; Lawrence House, Folkestone; Broadmeadow, Folkestone.
The Dorothy Lucy Centre in Maidstone would remain unchanged, with a decision about its future to be made at a later date.