WWII rescue ship to return to River Medway in Kent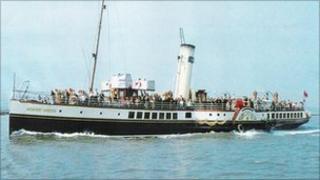 A paddle steamer famous for its exploits saving Allied troops during the Dunkirk evacuations of 1940 is to return to the River Medway.
Medway Council has secured £900,000 to bring back the Medway Queen from dockyards in Bristol next year.
The 1924 vessel made seven crossings, rescuing more than 7,000 men from the beaches of France.
Councillor Jane Chitty, cabinet member for economic growth, said the ship was part of Kent's naval heritage.
Restoration work on the ship's hull began in Bristol last April with money from a £1.86m Heritage Lottery Grant.
Medway Council applied to the European Regional Development Fund for a grant to complete the restoration and bring the ship home.
'Naval heritage'
The Heroes 2C project is being carried out in partnership with the Medway Queen Preservation Society and MidKent College.
Ahead of the ship's arrival, college students have been using their skills in woodwork and engineering to restore parts such as handrails and lamps.
During its final crossing in 1940, the Medway Queen was badly damaged and limped home on a single paddle.
The ship was refitted at Chatham Dockyard and served out the war as a training vessel.
It returned to paddle steaming on the Thames and Medway after the war and was decommissioned in 1963.