Thermal cameras search for raves at Folkestone Downs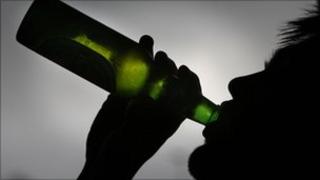 Thermal-imaging cameras are being used by police to trace young people holding parties on the Folkestone Downs.
Kent Police said the area around Crete Road West attracts large numbers of people gathering to drink alcohol.
Walkers on the site of special scientific interest have complained about being intimidated, discarded rubbish and camp fires.
Philip Green from White Cliffs Countryside Partnership said young people needed to show more respect.
'Significant damage'
He said: "We want to encourage people to visit this area which is one of Britain's top wildlife and conservation sites.
"However, it is not a place for lighting fires, illegal camping and raves which can cause significant damage."
Pc John Weller said: "Officers will be using thermal imaging cameras to detect illegal gatherings on the Downs and will deal with anyone caught.
"We would like parents to support us by finding out where their children are planning to hold their parties and to warn them of the consequences."
Stuart Tickle, from Kent Fire and Rescue Service, said illegal countryside fires places "enormous demands" on its resources.