New law permits road closures for filming in Kent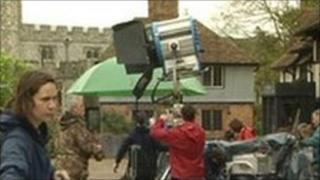 A new law has been passed allowing roads in Kent to be closed while filming is taking place.
An Act of Parliament means Kent is now the only authority outside London to have legal powers to temporarily close roads being used as film locations.
Kent County Council hopes the new law will help attract more filmmakers to the county.
The authority says filming generated more than £14m for the county's economy in the last four years.
'Nurturing industry'
The Kent County Council (Filming On Highways) Act received Royal Assent on 27 July.
Regeneration and economic development councillor Kevin Lynes said: "This is fantastic news.
"Filming brings a serious income into the Kent economy, so we're absolutely committed to nurturing the industry and making Kent a national and international contender for filming.
"The new law means we can offer filmmakers an even better package."
The BBC's adaptation of Jane Austen's Emma, featuring Michael Gambon, was filmed in Chilham in 2009 and Is Anybody There? starring Michael Caine was shot in Hythe and Folkestone in 2007.
The Kent Film Office was set up by the council four years ago to promote film making in the county.