Gunman who strangled girlfriend in Canterbury jailed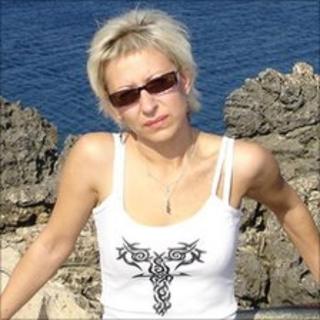 A man who strangled his girlfriend to death and then threatened people in supermarket with a gun in a drunken rage has been jailed for life.
Tomas Uptas, 32, was convicted of murdering fellow Lithuanian Loreta Raupiene, 46, in Canterbury, following a trial at Maidstone Crown Court.
Her body was found last November after Uptas was arrested for threatening people with a gun at Morrisons.
Uptas, who denied murder, was told he would serve at least 18.5 years.
At an earlier hearing he admitted possessing a BB gun with intent to cause fear of violence and attempted false imprisonment.
'Unconditionally loved'
Ms Raupiene's daughter Greta Raupyte said in a statement released by police her mother was "a positive, smiling person".
She continued: "A person who regardless of anything had unconditionally loved her family, friends and work colleagues.
"She always was, is, and will be the most precious person on earth for me,"
Jurors were told Uptas was shot in the arm by a police officer after he drunkenly threatened members of the public, including a 12-year-old girl, with a BB gun at Morrisons in Canterbury on 26 November.
While he was being treated in hospital officers went to his address in Victoria Road where they found the strangled body of Ms Raupiene.
Forensic evidence revealed that fibres taken from the marks around her neck matched her red scarf, which was found lying near her body in the bedsit and also continued Uptas's DNA.
The court was told the couple had been together for a few months but neither of them had jobs and they would often argue about their money worries.
Uptas became increasingly possessive of his girlfriend and told her that if he could not have her no-one else would, when she said she wanted to leave.
Oliver Saxby, prosecuting, said he became violent when drunk and had previously threatened to kill Ms Raupiene.
'Violent and volatile'
The court was told that on the day she died Ms Raupiene texted a friend asking her to help her leave Uptas saying: "Tomas is an animal, not a human being."
Following his sentencing, Det Ch Insp Dave Chewter said: "Uptas is a violent and volatile man who murdered Loreta Raupiene in cold blood and then proceeded to bring fear to the streets of Canterbury.
"His terrible actions have had a huge impact on those people who witnessed him making threats with the firearm as well as the family and friend of Loreta and the wider community in Canterbury."
Assistant Chief Constable Andy Adams praised the officers who confronted Uptas in the supermarket.
He said: "They were faced with a very difficult situation and had no way of knowing at the time that the firearm was anything other than real.
"They were confronted with a gunman who had already threatened members of the public, and continued to do so as they arrived.
"He refused all attempts to negotiate and bring the situation to a peaceful conclusion."