Pledge to residents over plans to shut Kent care home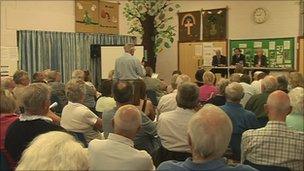 Residents will be treated with "care and consideration" if they have to move from a care home earmarked for closure, Kent County Council has said.
The statement was in response to claims from families of those at Bowles Lodge, Hawkhurst, that older people could die if forced to move.
The planned closure is part of a bid to change residential care in 11 of the 16 homes run by Kent County Council (KCC).
About 100 people opposing the move attended a public meeting last week.
Campaigner John Porter, whose mother Vera Woylor lives at Bowles Lodge, said: "The key point is that if you move those older people it very likely will shorten their lives."
He said his mother had heart failure and other conditions, and the stress of the move could end her life.
Councillor Graham Gibbens said: "People of any age can find change difficult and we know that a move for an older person can be traumatic.
"That is why, if the proposals are agreed, immense care and consideration will be given to any move that would then need to take place."
He said a Court of Appeal ruling in 2009 had ruled the risks of relocating older and frail people could be minimised, if there were thorough, detailed and individual plans to take care of every resident.
"This is exactly how KCC would carry out any moves," the cabinet spokesman for adult social services said.
Under the plans, Bowles Lodge would be demolished and replaced with apartments for elderly people with 24-hour care, a gym and other facilities.
KCC has said people needing residential care could be moved into homes in the private and voluntary sector.
The council has said the changes would provide good quality care and make the best use of resources, saving about £2m each year.
A public consultation is under way until 1 November, with a final decision likely to be made in January.
Related Internet Links
The BBC is not responsible for the content of external sites.