Kent biker completes solo journey around Africa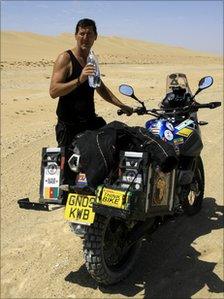 A former Kent teacher has completed his solo circumnavigation of Africa on a motorbike.
Spencer Conway, 42, from Biddenden, arrived in Kent on Saturday and rode the last few miles home on Sunday accompanied by a convoy of bikers.
The 34,000-mile (55,000km) journey through 34 countries over nine months has raised nearly £25,000 for the Save the Children charity.
Mr Conway said it was a complete "culture shock in reverse" to be back.
He added: "Everything is very organised. Just to be able to put the kettle on without having to build a fire is very strange.
"The biggest feeling is that it seemed really, really long when I was out there.
"Going from border to border, country to country, there were times when you feel that it is going on forever and then when I arrived back it felt like I hadn't left."
His father, Michael, said: "Spencer is looking very, very well and fit. It is quite emotional to see him again after so many months."
Mr Conway was shot at by three armed bandits in Kenya during the trip.
The gunmen opened fire on him as he negotiated a difficult stretch of road between Marsabit and Isiolo.
He was unhurt and managed to escape on his bike, despite it being damaged.
Mr Conway set off on his trip in November, riding through Europe and across north Africa to Ethiopia.
He then made his way down to South Africa before travelling back up the west coast of the continent and across the Mediterranean to Spain and then back to the UK via France.
Mr Conway said he was inspired by Che Guevara's tour across South America, as told in the Motorcycle Diaries, and had followed the fortunes of actors Ewan McGregor and Charley Boorman during their 15,000-mile motorcycle trip to South Africa.
Related Internet Links
The BBC is not responsible for the content of external sites.