Canterbury student loses half her body weight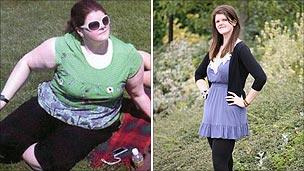 A university student who weighed 23-and-a-half stone has shed half her body weight in two years.
Kelly Meager wore a size 26 and had dangerously high blood pressure and high cholesterol when she went to university in Kent at the age of 19.
She stayed in her room eating takeaways while at Canterbury's University for Creative Arts, but decided to lose weight after seeing photos of herself.
Ms Meager, now 21 and size 12, has been named Young Slimmer of the Year 2010.
The fine art student said: "I was at my heaviest when I went to university.
"You're supposed to have the time of your life at uni but I just hid in my room and lived off takeaways.
"I didn't feel 19. I felt old, overweight and unhealthy."
She said her decision to lose weight came after a night out with fellow students.
"When I saw the pictures the next day on Facebook I was horrified - I looked huge," she said.
"I started refusing offers to go out and my room became my prison."
Ms Meager shed six-and-a-half pounds after her first week with Slimming World, which runs the Young Slimmer of the Year award.
She gave up takeaways and started cooking stir fry dishes and pasta, and joined a gym and began cycling.
"It's the best feeling when you put on a pair of trousers and they're loose with inches of space around you," she said.
"If someone had told me 21 months ago that I'd be 10-and-a-half stone lighter I'd never have believed them. I feel like a totally new person.
"I finally feel young. I'm loving life for the first time ever and have probably added years to my life too, so I want to make the most it."
Related Internet Links
The BBC is not responsible for the content of external sites.