Summer cramming for Kent 11 plus criticised by NUT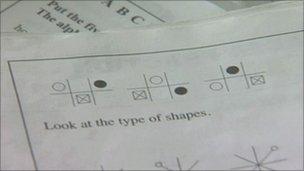 Last-minute coaching for children to get them through the 11 plus in Kent is being criticised by a teaching union.
Thousands of children across the county are due to sit the exam in September, hoping to get a grammar school place.
Some parents have engaged tutors during the summer holidays, with others setting up 11 plus "cramming parties".
But National Union of Teachers (NUT) spokesman John Walder said coaching meant children went to academic schools for which they were unsuited.
"Children get into grammar schools via the 11 plus, and because this is a specific test they can be coached," he said.
"Given that the grammar schools are designed to recruit the top 20 to 25% of the ability range, they should be producing 100% GCSE and A-level pass rates.
"That is something they do not do.
"That is evidence that there are some children who spend their four or five years at secondary school in schools they are not suited to."
The Kent County Council's 11 plus exam, called the Kent Test, is on 14 and 15 September for Kent children and 18 September for those outside the county.
The test for Medway schools is on 25 September.
Emmy Middleton, from Northfleet, who runs a tuition business said demand had grown in the last 10 years.
"It has gone up and up and up," she said.
"I used to run one-to-one sessions myself, then started groups of up to eight children, and now I have 25 tutors working for me."
Ed Kendrick from Edenbridge, the father of a 10-year-old boy, is among parents organising "cramming parties" during the summer.
"It was quite apparent to me that his best chance of success at 11 plus was not through individual tuition the whole time, which would be very boring, but in a group session," he said.
"So I took that idea to some other parents and they were of like mind.
"We got together and formed a small 11 plus group which started off just on Saturday mornings and progressed to Tuesdays and Thursdays and Saturday mornings.
"They go out on the trampoline to get themselves relaxed and have a bit of fun, then they come in and are asked to write their names like in a proper exam."
Related Internet Links
The BBC is not responsible for the content of external sites.