RMT says jobs 'at risk' as LD Lines ferry service axed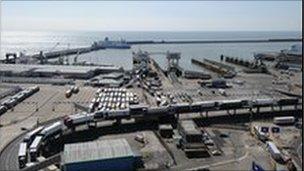 A union has called for urgent talks with a ferry company which is cutting one of its two Dover-Boulogne ships.
LD Lines said Norman Bridge would move to a new France-Spain service from 2 September and the Norman Trader would remain while options were considered.
The Rail Maritime and Transport (RMT) union said the move put jobs at threat and came as a "bitter blow".
The ferry operator added a second ship to the route earlier this year, amid claims the move would create 100 jobs.
Managing director Christophe Santoni said: "There remains huge over-capacity on the Dover Strait and with a continued decline in the overall cross-Channel tourist and freight market, we cannot see improvements taking place in current circumstances.
"We are very disappointed that the addition of a second ship to the Dover-Boulogne service has not generated the extra traffic volumes we had hoped for and will continue to work on all various options, making further announcements in due course."
LD Lines also said it would not give a figure about any potential job losses at this stage, because options were still being considered for the Dover service.
RMT national officer Steve Todd said: "The axing of the Norman Bridge would be yet another bitter blow to the UK shipping industry and to the Port of Dover in particular.
"RMT will continue to fight for the defence of jobs and for the future of ferry services in the UK which we know are coming under a major attack at ports right across the country.
"We are seeking an urgent meeting with LD Lines to look at ways of protecting the jobs of the staff who are caught in the middle of what is shaping up to be one of the biggest downturns in the UK ferry industry for many years."
LD Lines said all passengers booked on the Dover-Boulogne service would be accommodated on the Norman Trader or provided with alternatives.
Related Internet Links
The BBC is not responsible for the content of external sites.