Crackdown on roadside car dealers in Medway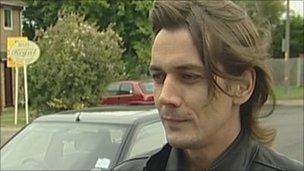 A motorist said he was shocked at being told he needed permission to put a "for sale" sign in the windscreen of his car.
Medway Council said Pete Dolling must have a permit to advertise the sale of his car if parked on the street.
The local authority said it was not targeting individuals but cracking down on roadside car dealers in the area.
Mr Dolling, of Chatham, said: "I was absolutely amazed at the tone of it in terms of threatening to tow me away."
Councillor Mike O'Brien, said: "We are not trying to stop any resident trying to sell his or her car occasionally.
"What we are doing is protecting them from the selfish and anti-social behaviour of a few that have blighted the streets of Medway in the past."
Neil Greig, of the Institute of Advanced Motorists, said: "If you are still using the car then you should be able to sell it by putting a notice in it.
"But I think the problem lies with people who leave the car on the streets for a long period of time and it becomes a public nuisance."
Related Internet Links
The BBC is not responsible for the content of external sites.