Reading to dogs scheme piloted in two Kent schools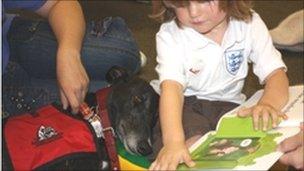 Children will be reading to dogs to help them build confidence at two schools in Kent this autumn term.
The Reading Education Assistance Dogs (READ) scheme will be piloted in Kent from September.
Kent County Council (KCC) said if the project was successful, it may also be introduced into libraries.
The council said reading aloud at school could be daunting for children, but reading to dogs helped them to feel they were not being judged.
KCC said the READ programme was currently being used in two other counties in the UK, and results from a Devon school had showed a direct improvement in children's personal reading goals.
Volunteers Tony Nevett and Kelly Bakewell have set up one of the UK's first READ teams - the programme was first set up in America.
Mr Nevett, who also volunteers for the Retired Greyhound Trust, said: "The READ programme was set up in the United States and I am trying to bring it to life in the UK.
"Many children find it a struggle to read and it really knocks their confidence if they stumble over words in front of their mates.
"The idea of reading to dogs is that they don't answer back and they don't give you a hard time if you don't get it right first time.
"It gives children an audience to practise in front of and helps them to build their confidence and their ability."
Batman the greyhound made an appearance at Maidstone Library earlier this year to show how dogs could help raise children's confidence and improve their skills.
Related Internet Links
The BBC is not responsible for the content of external sites.