Churchill's butterfly house recreated at Chartwell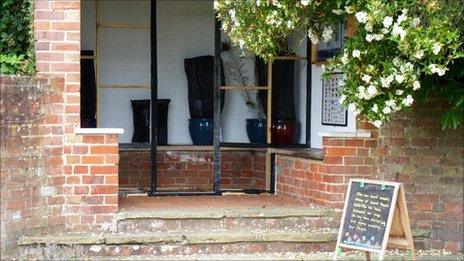 A butterfly house set up by Sir Winston Churchill at his family home in Kent has been recreated by the National Trust.
The wartime prime minister established the butterfly house in a converted summerhouse at Chartwell in the 1940s.
He first consulted an expert about the project in 1939 but, because of the war, the plans only came to fruition in 1946.
The first insects at the site for more than 50 years emerged this summer.
National Trust nature conservation adviser Matthew Oates, said: "Even war leaders love butterflies."
He said Churchill had a "lifelong secret passion" for butterflies which began as a young boy when he went "butterflying" in fields near his school in Sussex.
Churchill remained a serious butterfly collector as a young man while travelling in India and South Africa.
He bought Chartwell in 1924 and it was in 1939, when "storm clouds were gathering over the world", that he telephoned a leading butterfly breeding expert, L Hugh Newman, for advice on the project.
The plans were put on hold during World War II, but later the summerhouse was converted with muslin over the door, and a bench for cages where the caterpillars developed.
Mr Oates said Churchill insisted buddleia and thistles were mixed in with the more formal nature of an English country garden to attract butterflies and other insects.
There were also attempts to establish the extinct black-veined white and the non-native European swallowtail butterfly, but Churchill's gardeners cut down the hawthorn and fennel plants where the butterflies were breeding.
"I would argue very strongly Churchill was a pioneer wildlife gardener," Mr Oates added.
The garden team restored the summerhouse by following descriptions of the butterfly house taken from articles written by Newman.
The charity's approach differed to Churchill's in that only species naturally found around Chartwell have been used. Currently, there are guidelines that only native British butterflies should be bred for release.
Butterflies already to have emerged include peacocks and painted ladies.
Other species being bred include small tortoiseshell, red admirals and, in the future, cabbage whites.
Dr Martin Warren, chief executive of Butterfly Conservation, which worked on the project with the National Trust, said: "It's amazing to think that Churchill was planning this butterfly house at the start of the war, no doubt a welcome distraction from the weighty affairs of state."