Brighton victims' families want more CCTV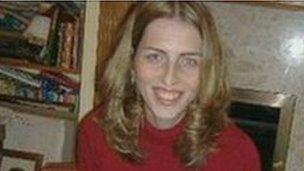 The families of two people brutally killed in Brighton have called for more CCTV, saying it was vital in bringing their relatives' killers to justice.
Video footage was used in the trials of Neil McMillan, who strangled Andrea Waddell in 2009, and Michael Bishop, who stabbed Stuart Slade in 2008.
Ms Waddell's mother, Sonia, and Mr Slade's mother, Maureen Boyling, said camera networks should be improved.
The government is currently reviewing the use of CCTV in the UK.
Mrs Waddell said: "I think the showing of the CCTV footage was crucial for the jury's verdict. They came back after only one hour and asked to view it a second time before reaching their verdict.
"We sincerely hope that with all the proposed cost savings that CCTV is not affected. In fact, I hope the quality of images improves and it goes on to help other victims of crime."
McMillan strangled Ms Waddell in October 2009 before setting fire to her flat. He was convicted of her murder and sentenced in June to a minimum of 22 years imprisonment.
Footage recorded inside the Kitchen Bar in Preston Street on 30 December 2008 showed Bishop staring at Mr Slade in the hours before he was fatally stabbed. Bishop was jailed in May for 12 years for manslaughter.
Mrs Boyling said: "I'm really glad there is CCTV. The only one thing I would say is, I wish there was more if it because they didn't have it outside the bar in the side street and there was nothing in Western Road and if only they'd had CCTV there - that would have been invaluable."
There are 400 CCTV cameras in public areas across Sussex, operated and funded by the Sussex CCTV Partnership, a joint scheme by Sussex Police and 17 local authorities.
Related Internet Links
The BBC is not responsible for the content of external sites.