Kent hospital admits failures over 87-year-old's death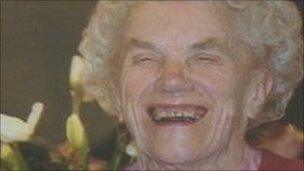 A hospital in Kent has admitted that failures in their care contributed to the death of an 87-year-old woman.
Joan Street died after staying at the William Harvey Hospital, in Ashford, for a routine hip operation, but developed bed sores in her lower back.
East Kent Hospitals University NHS Foundation Trust said it had admitted liability for contributing to her death in 2009.
The trust also said its legal advisors were in negotiations over compensation.
Mrs Street's death was caused by acute tracheo-bronchitis and a sacral pressure sore following her hip operation.
At an inquest into her death in January, the coroner said Mrs Street was recorded as being at high risk of pressure sores, but the subsequent recording of the sores and pain management by the hospital was incomplete.
The inquest heard that following surgery on 30 December 2008, broken skin was first recorded by staff on 6 January, and a pressure-relieving mattress was first used on 11 January.
Mrs Street spent nine weeks in hospital before she died on 1 March 2009.
On Friday, the family received a letter from the trust saying Mrs Street received less than adequate care and offering them £7,500 damages.
Her son-in-law, Barry Jones, said: "There were just shortcomings throughout her care.
"It's given us closure as far as the fact that the trust has now taken responsibility for their actions in her care.
"At the end of the day, the driving force behind it as far as the family is concerned is just other people.
"Joan's gone now. She passed away in agony just don't let it happen to other people."
A spokeswoman for the trust said: "The trust accepts that there were failures in Mrs Street's treatment relating to the pressure sore care.
"We would like to take this opportunity to reassure the family that steps have been taken within the trust to try to prevent such an occurrence happening again."
Related Internet Links
The BBC is not responsible for the content of external sites.