LD Lines to end Boulogne passenger ferry service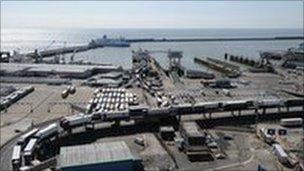 A ferry company is ending its Dover to Boulogne passenger service from 5 September.
LD Lines said it was considering options to continue the link with a reduced frequency freight-only service.
It had been considering a possible restructuring of the service following the decision to transfer one of its two ships to a new France to Spain service.
Managing director Christophe Santoni said he would "explore every option" to keep some form of service to Boulogne.
He said LD Lines was "disappointed to have to announce the ending of a tourist passenger service between Dover and Boulogne, as the addition of a second ship has not generated the extra traffic volumes we had hoped for".
Mr Santoni added: "A return to profitability can only be achieved for the ferry industry by adjusting supply to demand, increasing prices and market consolidation."
The ferries Norman Bridge and Norman Trader will remain operating a combined passenger and freight Dover to Boulogne service until 5 September.
Passengers booked to travel after then will be provided with alternatives, including the company's other routes, and compensated with discounts for future Channel crossings.
The Dover to Boulogne route was launched less than two years ago, with a second ship added earlier this year.
Mr Santoni said it was not possible to say how many jobs would be at risk, but the company was considering "all possibilities" to safeguard posts.
In a statement the Boulogne Chamber of Commerce said: "[We are] naturally disappointed that the LD Lines' Dover to Boulogne passenger ferry service will not continue after 5 September.
"The Chamber of Commerce will remain resolute and totally focused on marketing and promoting the unique facilities of the Port of Boulogne, to attract new operators."
Related Internet Links
The BBC is not responsible for the content of external sites.