Branson abandons Channel kitesurf bid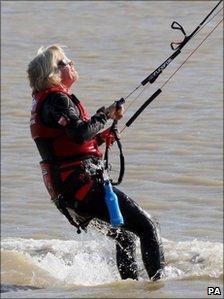 Sir Richard Branson has abandoned a bid to kitesurf across the English Channel after two attempts were scuppered by the weather.
Rough seas and high winds forced the Virgin boss to turn back to Dungeness after five miles (8km) on Tuesday. But on Wednesday there was too little wind.
Sir Richard planned the 24.4 mile (39 km) trip to mark his 60th birthday, which he celebrated last month.
He hoped to become the oldest person to cross the Channel by kiteboard.
"The guys have been trying to catch the wind all day, and it just wasn't happening. There wasn't enough," said his spokesman on Wednesday.
The team waited on the Kent beach for more than three hours before giving up.
The spokesman said Sir Richard would not make another attempt in the immediate future.
The record bid was supported by Princess Beatrice, who was among the crowd of spectators on the shore.
Sir Richard's kitesurf team included his nephew Ivo Branson, 15 and children Holly, 29, and Sam, 26 and the princess's boyfriend Dave Clarke, 28.
Kitesurfing involves the rider being pulled through the waves on a surfboard, propelled by a large controllable kite.
Sir Richard has described it as one of his favourite sports.
Related Internet Links
The BBC is not responsible for the content of external sites.