Kent fishermen back at sea as sole quota extended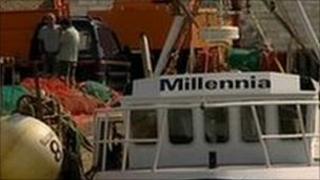 Fishermen in Kent have been told they can return to sea after a month on dry land after the amount of Dover sole they are allowed to catch was extended.
Skippers in Ramsgate and Whitstable feared for their livelihoods after the North Sea sole fishery closed in July.
Government negotiations with the Netherlands and Germany have now increased the EU sole quota for boats under 10m (33ft).
Every boat can now catch 550lb (250kg) a month, worth about £2,000.
It represents the equivalent of two to three days of fishing.
'Recognises importance'
The Marine Management Organisation (MMO) is responsible for closing and reopening fisheries when quota allocations are reached under the Common Fisheries Policy.
"The reopening of the North Sea sole fishery is great news and is something that I have been working closely with the MMO on securing," said fisheries minister Richard Benyon.
John Nichols of Thanet Fishermen's Association said he hoped the boats would be out at sea after midnight on Thursday.
"One of the most important things is that the minister recognises the importance of the inshore industry and is prepared to help.
"Coastal MPs around this area are very, very passionate about what they are doing for us at the moment and that is the way forward."
'Total reform'
Vessels up to 10m long make up 93% of the UK fishing fleet but only receive 3% of the quota.
The EU has promised to reform the system in 2011.
Conservative MP for South Thanet Laura Sandys said: "We are all thrilled that we have got a small bit of quota that will take us through hopefully almost to the end of the year.
"But ultimately we need a total reform of this whole system."