Paralysed Tonbridge woman moves near family in Hastings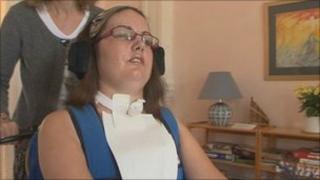 A Kent mother who is paralysed and unable to speak is to be moved to East Sussex to be nearer her parents.
Tracey Senik has a condition called locked-in syndrome. She was injured performing a cartwheel in 2008.
The 29-year-old, who can only communicate by moving her eyes, is being cared for at the Raphael Centre in Tonbridge.
Ms Senik, who has been locked inside her body for two years, is due to move to Hastings next week.
Last month Ms Senik told the BBC she believed the law should be changed to allow people in her situation to die, even though she has a lot to live for.
The former nursery nurse fell into a month-long coma after breaking a vein in her neck. When she woke up she was unable to move.
The move to Hastings will allow her to be closer to her parents John and Lita.