Kent street sign sponsorship extended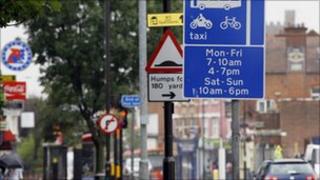 A scheme to raise money by allowing companies to advertise on council-owned assets is being extended.
Kent County Council said it hopes to raise £500,000 over four years through the sponsorship of signs on roundabouts and grass verges.
The local authority said the "modest" signs would promote local businesses and generate income.
The Campaign for the Protection of Rural England (CPRE) said the council should be reducing street clutter.
The scheme was introduced in 2007 for roundabouts, but is now being extended to signs at the entrance of villages and towns, as well as grass verges.
Roger Gough, a Conservative county councillor, said: "Frankly every pound that we earn in one way or the other ensures we can protect services at a very difficult time.
"If it's done properly as we do it, it doesn't look tacky at all."
Sean Fury, the deputy director of the CPRE in Kent, said: "Signs are put in but then they're never reviewed, so you get more and more signs in some locations, which are utterly bamboozling."