Maternity move from Maidstone to Pembury sparks debate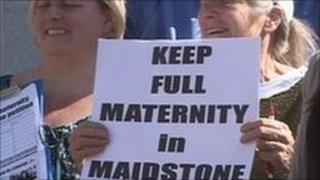 Plans to move some maternity services from one Kent hospital to another were the subject of a public meeting.
Campaigners unhappy with consultants being moved from Maidstone Hospital to the new Pembury Hospital next year were at Maidstone Leisure Centre
Representatives from the Maidstone and Tunbridge Wells NHS Trust were also at Thursday's event.
If the proposals go ahead, Maidstone would be left with just a midwife-led birthing unit.
'Safe services'
The trust said it would give more choice, with new mothers getting a more personal experience at Maidstone.
It also said moving consultants to Pembury would allow staff levels to be kept safe.
Dr Wilson Bolsover, consultant paediatrician, said: "These services will be safe. The changes are being introduced because we need to keep them safe... the existing system is just not sustainable, and this is about maintaining safe services for the whole of the population in the west of Kent."
The government has ordered a review into the changes, asking the NHS to work with local people to try to resolve any concerns they have.
A report is due to be given to the Health Secretary, Andrew Lansley, by the end of this month.