Deal cancer patient declined treatment by Kent trust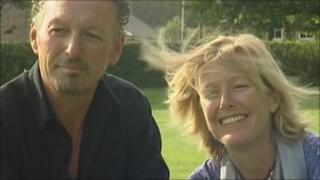 A Kent cancer patient has criticised health chiefs for declining to fund a treatment that could prolong her life.
Suzanne Lloyd, from Deal, was diagnosed with breast cancer in 2001 and has been fighting the disease ever since.
She applied to Eastern and Coastal Kent Primary Care Trust to receive Selective Internal Radiation Therapy (SIRT) to reduce the size of the tumours.
The trust said there was insufficient evidence to show "clear benefits".
Ms Lloyd said: "The first thing I think about every morning is what can I do to try and get this treatment.
"I shouldn't be doing that. I'm angry, frustrated and they have taken away a lot of my hope and that's one of the worst things."
Ms Lloyd said experts had told her the treatment could prolong her life by more than 14 months.
'Limited resources'
Her husband, Peter Lloyd, said: "When you are suffering and fighting a disease, hope is all you've got and it's a great shame that they've seen to take that course of action."
In July, the government announced a £50m fund which should see some cancer patients get access to drugs sooner.
The fund will be accessible from October, ahead of a further cancer drugs fund to be launched in April 2011.
Charlie Elphicke, the Conservative MP for Dover and Deal, said he was "supporting (Ms Lloyd) to the hilt".
He added: "I think the PCT should review (the decision) in October when the new money is available."
In a statement, the trust said: "The evidence for clinical effectiveness for SIRT for liver metastases following breast cancer is insufficient.
"(We need to) focus our limited resources on treatments where the evidence shows clear benefits."