Water firm apologises for flooding in Herne Bay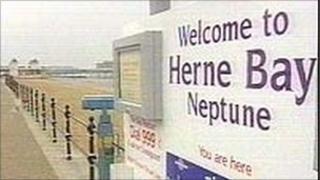 A water company has apologised to residents in Herne Bay whose homes and businesses were damaged by flooding last month.
The Environment Agency said more than 60 properties were affected by flood water during downpours on 25 August.
Southern Water said a valve at the Kings Hall pumping station was left closed which caused storm water to back up into the sewage system.
The company said it would consider compensation claims.
Paul Kent, the company's planning strategy manager, said: "Where there is justification for compensation then we will meet that compensation."
'Virtually unsaleable'
Residents in Herne Bay have set up an action group after their homes were flooded eight times in 14 years.
The group's chairman, David Short, said: "Residents have put up with so much over the past five years.
"It's really time they paid enough money out to compensate us for the drop in value of our properties, for the damage that the water is doing to the fabric of the buildings.
"Our houses are virtually unsaleable now."
In a statement Southern Water said an investigation was under way to establish why the valve at the pumping station was closed.
A spokesman said it was the first time it had happened and the valve was not the cause of previous flooding incidents.
He said: "The company's immediate priority remains to help everyone get back to normal as quickly as possible and it has made a public apology to all those affected."