Gravesend £120m development rejected by councillors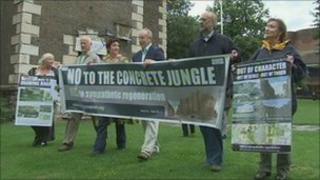 A plan to redevelop one of Kent's town centres has been rejected.
Councillors were concerned by the scale of the £120m proposal for the Heritage Quarter in Gravesend, which comprised of retail units and housing blocks.
Campaigners had argued the scheme was too large and not in keeping with the existing architecture.
Mike Snelling, the leader of Gravesham Borough Council, said a "shadow of uncertainty remained over the regeneration of the town".
He had previously said walking away from the scheme could have bankrupted the authority.
Leisure facilities
The council has a legally binding agreement with the developer, signed in 2007, committing the land to the scheme.
The planning application by developer Edinburgh House includes provision for 400 flats, a hotel, restaurant and leisure facilities, shops and offices.
It also has a new town square, 1,000 parking spaces, improvements to St Andrews Gardens and the river walkway and new community facilities.
About 350 people attended the meeting of the council's independent regulatory board at Woodville Halls on Monday evening.
Campaigner Martin McKay said: "We would be happy with regeneration but on the right scale that fits in with our historic town.
"We feel that somewhere inside that huge monstrous scheme is a smaller, more sensible scheme, struggling to get out."
In a statement, Mr Snelling said: "It remains to be seen now whether the developer appeals this decision and what the outcome of that appeal will be."