Neighbour honoured for Maidstone fire rescue bravery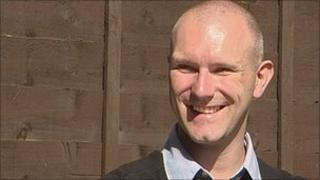 A man who risked his life by entering a burning house in Kent to save two boys, aged seven and 11, and their mother has been given a bravery award.
Leo Vloothuis, of Boxley, Maidstone, received a Certificate of Commendation for his "highly courageous" actions.
In July, he carried one child to safety and then saved a second after he saw smoke coming from a neighbour's house.
Mr Vloothuis said: "I don't consider myself to be a hero."
He added: "I was in the right place at the right time when the fire broke out and I was glad that I was able to save the family next door."
'Fire spread quickly'
Mr Vloothuis also forced the boy's mother, who had been trying to tackle the blaze, to flee the house during the incident.
Kent Fire and Rescue said he also showed considerable foresight to close doors and windows in the next door property to stop the fire spreading.
Chief fire officer Charlie Hendry said: "Faced with a rapidly deteriorating situation, Leo's quick actions prevented the incident from worsening.
"The fire spread very quickly, and soon after the boys rescue the roof caught light. We consider his actions to be highly courageous.
"His efforts, in an extremely difficult situation, enabled his neighbour and her two sons to escape unharmed from their ordeal."