Kent family left without school place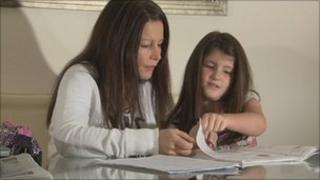 A mother who moved to Kent with her daughter in the summer is still waiting for a primary school place for her child, three weeks into the new term.
Lisa Yeates, of Tonbridge, first contacted Kent schools in April and completed a council application form which she says has not been processed.
Kent County Council said the changes in admissions rules over the summer had created a "huge burden" on the council.
It said it was doing everything it could to find an appropriate school.
Ms Yeates said she was doing home education with her eight-year-old daughter Olivia while they waited for a school place and added: "We just look forward to the neighbour's children coming home so my daughter can interact with children of her own age."
'Major task'
A statement issued by Kent County Council (KCC) said families who moved to the county during term-time used to go directly to schools but now had to apply to the local authority.
It said: "This process was brought in by the previous government to safeguard against families denied places drifting from school to school.
"In seeking to solve this problem, it has created a huge unnecessary burden on the local authority which results in every application being channelled through a single office."
It said KCC had received many hundreds of applications and administering them centrally was a major task.
A spokesman for the Department of Education said: "The Government has been clear that it will be simplifying the admissions code."